The Crown Inn – Coaching Inn Staycation in Amersham
The Crown Inn, Old Amersham – Hotel Review
Location: Old Amersham, Amersham
Price: ££
Value for Money: 4/5
Overall: 3/5
Perfect for: Romantic weekend getaway
Covid-19 Safety Measures:
All staff and guests wear masks indoors

Daily temperature checks for all staff

Staff to work in fixed teams to limit cross exposure where possible

Hand sanitiser available

Regular sanitising of all high contact areas
Location and First Impressions:
Located right on the high street of Old Amersham, The Crown Inn is perfectly situated to explore the quirky boutiques, cosy restaurants and cute cafes found all down the street. The hotel itself has plenty of parking in the cobbled courtyard behind the property and once we parked up we were excited to check in.
As we entered the hotel we were greeted with a roaring fire that warmed us up as we admired the historic timber frames and pillars found throughout the historic property. It is a cosy and welcoming space decked with sturdy wooden flooring and solid oak tables. This traditional decor is in-keeping with the hotel's Elizabethan coaching inn history. The in-house restaurant, Hawkyns, is run by twice michelin-starred chef, Atul Kochhar.
I was excited to dine at Hawkyns in the evening and will be putting up a separate restaurant review of my dining experience. There's also the Bubble & Cafe Bar, set up by Million Pound Menu winners Rupert and Marita, offering a twist on the traditional Bubble & Squeak.
The Room:
The Crown has an impressive 45 bedrooms which are dotted around the courtyard in three separate buildings, ranging from spacious to boltholes. We had trouble opening the door to our room so we had to call the receptionist and then the light wasn't working so we had to call her again. A quick change of the lightbulb and we were ready to explore our lodgings for the night.
We were staying in one of the standard rooms and, upon entering our room, we were a little surprised at how sparse the initial space was. An easy fix of a few canvas paintings would work wonders to add to the space without losing its charm and character. The bathroom is on the ground floor and has modern fixtures including a lovely rainforest shower complete with The White Company toiletries. The ground floor also has coffee and tea making facilities as well as a basic TV.
To get upstairs, you have to navigate a tiny staircase which would be quite a squeeze for those of a larger frame but completely understandable as it certainly couldn't be made larger given that it is a historic grade II listed coaching inn. As soon as you get upstairs you are greeted with a large claw foot bath and a big comfy bed under a high timber-framed ceiling. There was a Freeview tv next to the bath but there was no remote unfortunately. Alas, we weren't there to watch tv and we didn't want to call the receptionist for a third time!
My husband used the claw foot bath (he couldn't resist!) and said that it was luxurious and relaxing. The bed was comfortable but we were woken up early by builders whom we assume were working on one of the other rooms. We had to get up for breakfast anyway but if we wanted a lie-in we probably wouldn't have been happy.
Dinner:
We dined at the hotel's in-house Pan-Indian restaurant Hawkyns and had an absolutely stunning tasting menu. Check out my full review of Hawkyns for all the details!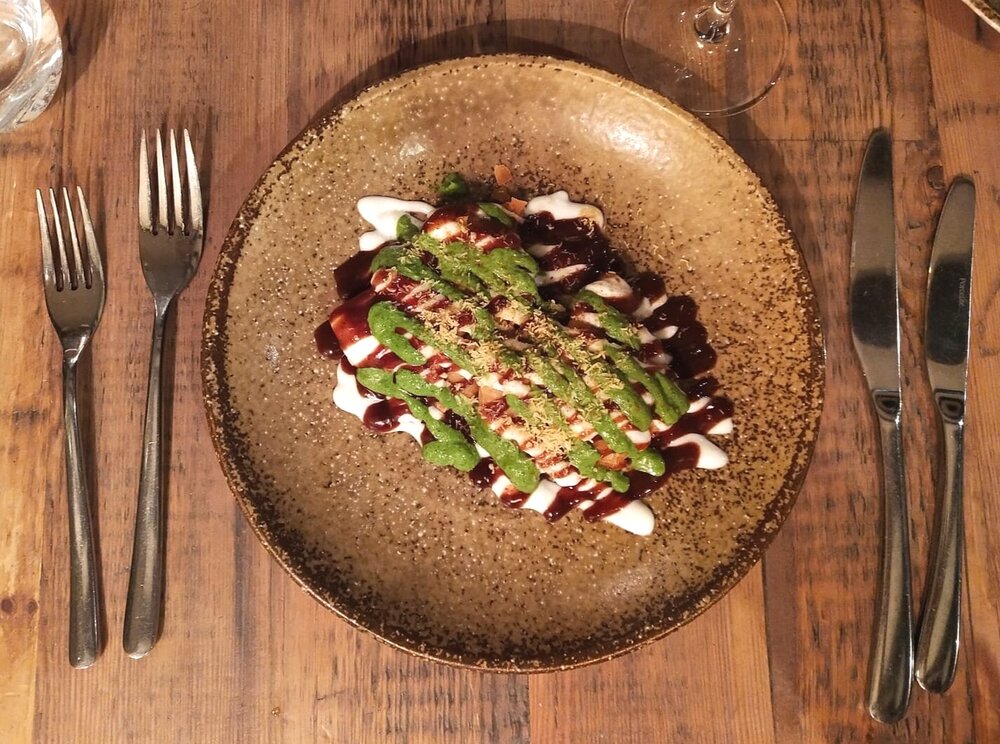 Breakfast:
Breakfast is served in the main building inside a nicely lit space facing the courtyard. Tea and coffee is served on arrival alongside a Continental breakfast. This includes fresh fruit and fruit juices, pastries and breads, a selection of cheese and cold meats, and a selection of cereals and preserves.
The hot breakfast menu offers the usual favourites including the Full English and Vegetarian equivalent, Eggs Benedict, Eggs Royale, and Three Eggs Omelette with choice of fillings. After some fruit from the buffet section, we decided on the Three Eggs Omelette with Cheddar Cheese, Ham & Mushrooms and the Vegetarian Breakfast with Veggie Sausage, Mushrooms, Tomatoes, Beans, Wilted Spinach, & Scrambled Egg. Both of the dishes were delicious and I especially enjoyed the veggie sausage and the fried mushrooms and tomatoes. The omelette was also tasty and filled with a good amount of cheese and ham.
Overall:
Despite a few minor hiccups concerning the room, we enjoyed our stay at The Crown Hotel and enjoyed strolling around Old Amersham exploring the lovely boutique shops. The hotel has plenty of charm and character and I can imagine it being a lovely stay during the winter months when the cold creeps in and you long for a cosy and warm space to escape to. Hawkyns restaurant is also a winner and worth a visit during your time at the hotel. All in all, The Crown Hotel is a lovely and historic hotel that is a great option for a weekend break away.
COVID Note: Please make sure to check and abide by government travel guidelines. Please also respect the rules and regulations of the hotel to keep you and other guests safe. Thanks you!
Book your stay at The Crown Inn, Amersham
Address: 16 High Street, Amersham, Buckinghamshire, HP7 0DH
Phone: +44 (0)1494 721 541
Her Favourite Food x
My stay was complimentary – all opinions are my own.