Stock markets cautious ahead of UK Covid lockdown exit plan – business live | Business
08:04
Shopper numbers rise across British retail
Increases in the number of shoppers at British shopping destinations suggest there is significant pent-up demand for when non-essential shops reopen, according to data company Springboard.
Footfall in UK retail destinations rose by +6.8% last week from the week before, compared to an 8.5% in the same week last year (before the pandemic's effects on the UK became clear).
Footfall rose by 10.5% in High Streets, 4.5% in shopping centres and 1.2% in retail parks – although overall it remains 62% lower than last year.
Nevertheless, it suggests that Britons are ready to return to shops en masse when restrictions are eased, Springboard said.

Diane Wehrle, insights director at Springboard, said:



You could be fooled into thinking that last week was a normal half term week rather than in the eighth week of a national lockdown, as footfall continued to rise for the fifth consecutive week.

With the magnitude of increase continuing, this provides further evidence of significant pent up demand amongst shoppers to visit retail destinations and indication of the significant surge back to stores when non-essential retail reopens in the coming weeks/months.
07:37
Part of the inflation surprise has come about because of rising commodity prices. Demand for commodities slumped during the first phase of the pandemic, but it has come roaring back.
Those moves have had two effects. First of all, the slump in prices a year ago means that headline measures of inflation are set to jump above targets. Secondly, the more recent price increases will raise costs for companies, even if core inflationary pressures aren't building as fast. Both of those effects will make it uncomfortable for doves who favour keeping borrowing costs low.
The gains for commodity prices have been notable.
Oil prices are up 1% today. One barrel of Brent crude oil for April delivery costs $63.54, a price not seen since January 2020, until the last week at least. West Texas Intermediate, the North American benchmark, is also up 0.9% on Monday, having earlier broken the $60 mark.
Price swings for some base metals has been even more marked. Copper futures prices have long left behind pre-pandemic levels, slipping back from a nine-year high on Monday.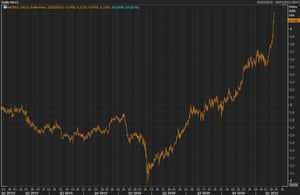 07:17
Let's dive into today's stock market moves: after all, the FTSE 100 is down 0.6% and Europe's Stoxx 600 index is down 0.7% despite hopes of economic recovery as vaccines work their magic. What's going on?
"Inflation expectations" is the answer given by many analysts. Stronger growth is good for the economy, but it could also prompt prices to rise if demand outstrips supply. That in turn could cause central banks to think about reducing the huge stimulus programmes they brought in to tackle the pandemic's economic crisis.
Bond markets are pricing in higher inflation (which eats into their returns, reducing their value). Bond yields, which move inversely to prices, have jumped during the first two months as inflation expectations have risen.
The pace of bond market moves during 2021 has taken many investors by surprise. Take the US 10-year Treasury, investors' benchmark: the yield has risen from well below 1% on new year's eve to just shy of 1.4% this morning.
Kit Juckes of Société Générale said the rise in yields could go one of two ways: it could make investors think a bit more carefully about pumping up riskier assets like stocks (and some stocks in particular) while not prompting major moves; or rising yields could signal that inflation is really coming, forcing the US Federal Reserve "to hurt the global economy to get it under control".



We're in the optimistic camp because we doubt we'll see enough underlying/core inflation to feed the bond sell-off for very long, and we think global economic recovery is a bigger long-term story than a rise in bond yields from very low, to merely low. That said, this is going to get prettty bumpy.
There is little doubt that prices of stocks and bonds have been pumped up by central bank stimulus. If investors fear that the Fed, the European Central Bank or others like the Bank of England are going to take away the punch bowl then the party could end very quickly – even if trillions of dollars, euros and pounds of stimulus are still in place.
Stephen Innes, a strategist at Axi, a trading platform, likened the mood to the "taper tantrum" of 2013, when concerns that the Federal Reserve could start to reduce its bond purchases triggered a bond selloff. He said:



The real danger in higher Treasury yields is not the Fed or inflation – it's the market's perception of a threat that is likely much greater than anything that might even actualize.
06:19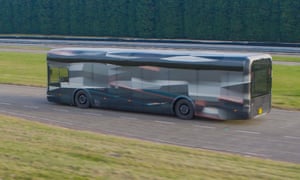 In case you missed it yesterday: Electric buses built by Arrival, the UK-based manufacturer, will be tested on British roads for the first time later this year in a trial with the transport company First Group.
The tests will begin in the autumn of this year, starting with four of the first production vehicles produced at Arrival's research and development facility in Banbury, Oxfordshire. Discussions are under way about further trials with other companies.
Arrival has burst onto the UK automotive scene, targeting urban vans and buses rather than cars. It hopes to use an unorthodox production technique to make battery electric vehicles more cheaply.
Arrival is also looking at an undisclosed number of new sites for factories within the UK, a signal of its intent to ramp up output as it prepares a reverse listing on the Nasdaq stock exchange in New York at a valuation of $5.4bn (£3.9bn). The company's main operations will remain in the UK.
You can read the full story here:
05:59
GSK and Sanofi to start phase 2 trial of coronavirus vaccine candidate
Sanofi and GlaxoSmithKline (GSK) have announced they will start phase 2 studies of their coronavirus vaccine candidate, after their efforts were delayed at the end of last year.
The French and British pharma companies previously found that the vaccine produced an "insufficient" response in over-50s, but on Monday they said in a statement that they were confident in its potential, and hoped to gain regulatory approval in the fourth quarter of 2021.
The phase 2 study will give the vaccine to 720 volunteers aged 18 and over. The companies hope to ascertain the best antigen dosage for large-scale phase 3 trials.
The trial will include equal numbers of adults 18 to 59 years and those 60 years and above.
While most of the British population will likely be vaccinated by the end of 2021, more vaccines will be required to protect most of the world's population, hopefully giving less chance for vaccine-resistant variants to emerge.
Thomas Triomphe, head of Sanofi Pasteur, Sanofi's vaccines division, said:



We are confident that our vaccine candidate has strong potential and we are very encouraged by the latest preclinical data. This new Phase 2 study will enable us to identify the final vaccine formulation for adults of all ages.
The GSK/Sanofi vaccine uses a chemical known as an adjuvant to boost the body's immune response to proteins that include part of the genetic code of the Sars-CoV-2 virus.
05:24
Sterling has recovered ground since traders in London finished their breakfasts: it is now up for today at $1.4020 against the US dollar.
That represents a meagre 0.05% gain for Monday, but in the context of the last few years – during which the currency was held back by the threat of a no-deal Brexit – $1.40 is the highest for nearly three years.
Another key reason for the pound's strong performance during 2021 so far has been its relative speed compared to other major economies in rolling out vaccines. Some economists believe that has laid the groundwork for a faster economic recovery.
There are signs that the pound may have been oversold even before the vaccine good news. David Owen, chief European economist at Jefferies, an investment bank, said that "part of the supposed underperformance of the UK economy last year was a measurement issue". Jefferies forecasts GDP will fall by 5.6% in the first quarter of 2021, followed by a rapid recovery of 7.7% in the second quarter.
Prime Minister Boris Johnson's approach to ending the UK's lockdown could end up capping much further upside for the pound, said Ricardo Evangelista, an analyst at ActivTrades, a spreadbetting website.




The pound has, so far, been the top performing currency of the year, thanks to a successful vaccine rollout that generated enthusiasm amongst investors. If the UK's roadmap to exit lockdown and reignite its economy proves to be too cautious in the eyes of market operators the pound's recent galloping performance may start to fizzle out.
04:44
Rio Tinto boss received £1.4m pay rise despite sacred gorge destruction scandal
Rio Tinto's ousted boss received a pay rise in 2020 despite overseeing the destruction of the Juukan Gorge, a sacred site in Australia.

Jean-Sébastien Jacques, the company's former chief executive, received £7.2m during 2020, according to the mining company's annual report on Monday. That was 24% higher than the £5.8m he was paid in 2019 as the value of shares awarded to him increased.
Jacques was forced to resign after the scandal caused outrage in Australia. Rio Tinto, which had known of the gorge's significance to Aboriginal traditional owners, initially responded by cutting the bonuses of executives.
Despite the executive reshuffle prompted by the scandal, Rio enjoyed a bumper year as demand for iron ore soared. Last week it announced a record $9bn in dividends for 2020.
Simon Thompson, who has remained Rio Tinto's chairman throughout the scandal, said:



Our strong performance during 2020 was overshadowed by the destruction of the ancient rock shelters in the Juukan Gorge and I reiterate our unreserved apology to the Puutu Kunti Kurrama and Pinikura (PKKP) people.

We fell far short of our values as a company and breached the trust placed in us. It is our responsibility to ensure that the destruction of a site of such exceptional cultural significance never happens again.
04:18
Germany's business confidence has risen much more sharply than expected during February, according to a closely followed index run by the Ifo Institute.
The index hit 92.4* in February, signficantly above the 90.5 consensus from economists.
Klaus Wohlrabe, an Ifo economist, said the German economy was looking towards an upswing as confidence improved in construction, retail and other services sectors.
Expectations of German industry – a key part of the Eurozone economy – were especially pronounced, with production plans revised upwards significantly.
*This post has been corrected. The correct reading for the index was 92.4, not 94.2 as initially stated. Thanks to user Pyjamapeople for pointing out the error.
Updated

04:09
An added note on G4S: it is the biggest faller on the FTSE 350, down 10% after GardaWorld pulled out of the bid battle before it had really started.
However, that has still left shares at a higher point than they were before the pandemic.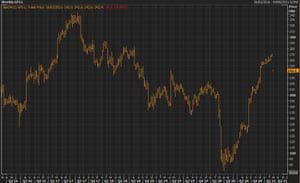 04:01
An hour into the week's trading, and UK stocks are not having a great time.
The FTSE 100's blue chips are down by 1% at about 6,560 points, while the mid-cap FTSE 250 has also lost 1%, down to 20,836 points.
The biggest fallers on the main index are medical device maker Smith & Nephew, down 4.3%, and grocery delivery company Ocado, down 3.5%.
03:56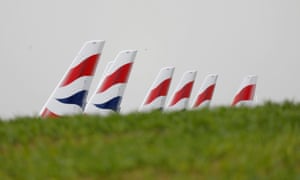 It looks like deferred payments to pension funds may be something of a theme for hard-pressed sectors that have been forced to suspend their operations: British Airways is also at it, it announced today.
The airline, a subsidiary of International Airlines Group (IAG), has reached agreement with one of its pension funds to defer £450m of pension deficit contributions due between October 2020 and September 2021 as it tries to conserve cash.
The trustee of New Airways Pension Scheme (NAPS) agreed that the airline could defer monthly payments of £37.5m. In return BA will pay interest on the deferred cash and put up property assets as security.
BA will also pause dividend payments to IAG until at least the end of 2023, when its pension deficit is expected to be closed.
The prospects for UK-focused airlines are not good, given government messaging that suggests that foreign travel is unlikely to return any time soon. That is unlikely to be the case at least until other countries catch up with the UK's vaccination efforts.
03:45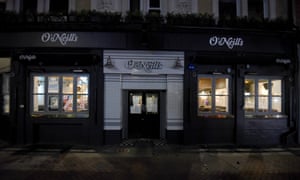 The pub and restaurant group Mitchells & Butlers has temporarily suspended payments to its staff pension fund and is pressing ahead with £350m emergency fundraising to see it through the Covid crisis.
The All Bar One owner, which also runs pub chains including O'Neill's and restaurant brands such as Harvester, usually pays £4.2m a month into its pension fund. It has agreed to delay payments for at least three months, with plans to restart contributions in April.
Sales were down 70% between September and January, a period in which Covid rules were tightened after a brief respite over the summer.
You can read the full story here:
03:40
G4S bid battle ends after Garda World retreats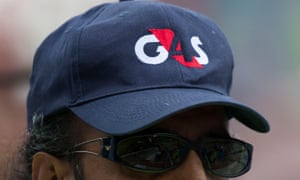 A bidding battle for G4S, the outsourcing company, has fizzled out after Canadian security company GardaWorld said on Monday that it will not raise its bid from the 235p offered in December.
Garda's retreat leaves the way open for rival bidder Allied Universal, which offered 245p per share. The UK's Takeover Panel had pushed the bidders into an auction situation to decide the best bid, but Garda did not force Allied to respond.
However, Garda did deliver a parting shot to G4S, saying it would not pay too much for a company with scandals "that continue to come to light" – possibly a reference to the Guardian's revelations in January of allegedly illegal recruitment fees charged to workers, as well as previous allegations of practices of forced labour.
Stephan Crétier, GardaWorld's boss (he lists himself as "founder, chairman, president and chief executive"), said:



There can be no better owner for G4S than GardaWorld, but we are disciplined buyers and we will not overpay for a company with systemic ESG issues that continue to come to light.

In light of the above, we have concluded that priced above 235 pence per share, there are better and less risky opportunities available to GardaWorld.
03:18
Boeing grounds 777 planes after engine failure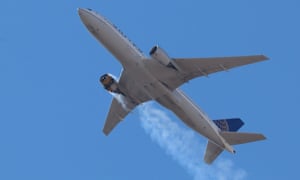 One key stock to watch later will be Boeing, which is facing yet another problem, this time with its older 777 planes.
Boeing late on Sunday night said airlines using one type of Pratt & Wihtney engine should ground them until they can be inspected, after one plane was forced to make an emergency landing after engine parts dropped off in mid-air (see picture).
The US aircraft maker has already endured the worst period in its history after two deadly crashes were blamed partly on its failures. The consequent grounding of its bestselling 737 Max plane came before the coronavirus pandemic caused cash-strapped airlines around the world to cancel orders for new planes.
You can read the full story on the 777 grounding here:
03:07
As expected it's a drab start for European equities: the FTSE 100 has lost 0.6%.
The Stoxx 50 index tracking Europe's largest stocks is down 0.2%, while US equity futures – looking ahead to this afternoon – have also dipped.
02:57
Stocks on back foot as investors look for inflation signs
Good morning, and welcome to our live coverage of economics, business and financial markets.
Stock markets have surged during the past year as central banks and governments have pumped in stimulus. Now thoughts are turning to whether that rally can continue, as hints of inflation suggest that central banks may be tempted to tap the brakes.
Futures indicate that the FTSE 100 is likely to endure a bumpy start to the week ahead of Prime Minister Boris Johnson announcing more details of the plans to ease restrictions on the UK economy.
The FTSE 100 was expected to follow in the footsteps for the most part of Asian markets outside Japan. The Shanghai stock exchange composite lost 1.5%, while the 300 biggest stocks across both Shanghai and Shenzhen lost 3.4%. Shares were also down in Hong Kong and Korea.
IG Group, an investment platform, explained in its morning note:



Chief amongst the current concerns appears to be the rise in Treasury yields, with a recent resurgence in fixed income returns providing less reason to believe that equities are the only area to invest. […] With commodities on the rise, we have yet another reminder of the potential rise in inflation that many believe could bring an earlier end to the current loose monetary policy environment.
It's a complicated picture, particularly as the vaccination effort suggests divergences between countries will rise in the short term. A case in point: in the UK the pound has set a new three-year high mark against the US dollar on Monday morning: one pound was worth $1.4051, before it retreated slightly.
Sterling hit the $1.40 mark for the first time in three years on Friday. It is one of the best-performing major global currencies this year in part because of the removal of Brexit risks and also because of the UK's rapid pace of vaccinations, analysts have said.
Some economists believe the fast pace of vaccinations – 17.6m adults have had a first dose up to 20 February, almost a third of the total expected – could help the UK economy to recover faster than some others.
And we have more to come this morning on:
Boeing, which has suffered issues with its 777 planes, the latest blow even as its 737 Max gets back in the air.
British Airways, which has delayed pension payments of £450m so that it can conserve cash until the airline business is able to restart properly.
Mitchells & Butlers, which reported a big slump in sales – hardly unexpected as its pubs and restaurants closed.
The agenda

9am GMT: Germany Ifo business climate index (February; previous: 90.1; consensus: 90.5)
1:30pm GMT: US Chicago Fed national activity index (January; prev.: 0.52)
2:30pm GMT: European Central Bank's Christine Lagarde speech
Updated