Eat out to help out scheme pulls UK inflation down to 0.2%; US retail sales slow – business live | Business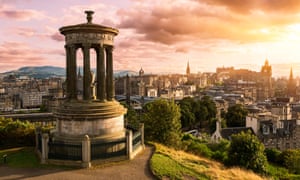 Over in Scotland, new economic data shows its economy shrank by nearly a fifth in the last quarter, our Scotland editor Severin Carrell reports.
Scotland's economy contracted by 19.4% in the second quarter of 2020 and by more than 21% over the first six months of the year, excluding North Sea oil and gas output, the country's chief statistician has disclosed.
Roger Halliday found that during the first three months of lockdown, April to June 2020, the construction sector contracted by 41.5%, distribution, hotels and catering by 33.9%, production by 15.7% and the service sector by 18.7%.
Here's the details: Gross domestic product – first estimate: 2020 quarter 2
The overall UK economy shrank by 20.4% during the second quarter, the worst in the G7.
In April, Scotland's chief economist, Gary Gillespie, predicted that output could fall by as much as 33% due to the coronavirus pandemic and lockdown. Since then the Treasury's easing programmes, and the Scottish government's subsidies for many sectors, have led to less alarming data and forecasts.
The Scottish Fiscal Commission, the statutory body which reviews Scottish government economic and fiscal policy, said earlier this month the economy was recovering more quickly than had been feared [which echoes the OECD's new forecasts].
It said that assuming the economy recovered at an average monthly growth rate of 2.3% "we could expect GDP growth for 2020 as a whole of -11.7%".



"While this is a large fall, it is significantly less than if the near 25% contraction in GDP between January and April were sustained over the course of the year."
Even so, the SFC said it may take until 2023 for the economy to recover to pre-pandemic levels. "We expect some permanent damage to the Scottish economy, with the effects still felt in the years ahead," it said.



"Our illustrative projection of Scotland's potential output suggests Scottish GDP might be around 4.0% lower in 2025 than it would have been without Covid-19. Significant downside risks to the economy remain if stricter lockdowns have to be re-implemented.

Economic growth will be contingent to the trajectory of bringing the virus under control and is therefore difficult to predict with any certainty at this point."